Hive Mentality
A downloadable game for Windows
Note: Very early prototype

Hive mentality is a game where you manage a colony of bees by placing tiles. There is currently no clear objective, so the game is mostly a sandbox.
How to play:

You must make sure that all of your bees live as long as possible. This is made difficult by the fact that bees will put their work above their own needs. You will need to make sure that your bees have access to honey or water (whether they are carrying it or it is in a honeycomb) so that they do not starve.


To play, you must select the tile you want to place from the tile selector on the left. Afterwords, you left-click on the hive to place a tile, and right-click to stop placing tiles. The center 'X' tile deletes overlapping tiles.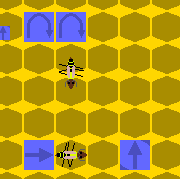 When a bee exits the hive, it will appear on the other side carrying water and honey, which it will drop off in honeycombs as it passes.

You can obtain more bees by placing eggs. When you place an egg, be sure it gets plenty of honey or water, or it will perish.

Made for Weekly Game Jam 14 (theme: BEES!!!)

Download
Download
HiveMentality_GameJamVersion.zip
639 kB
Install instructions
To play, you must have Directx, and you must enable Direct Play on systems using Windows 8+.

Once you meet these requirements, simply download/extract the .zip and run the executable.